We are blessed with an amazing staff...who wants to join us?
Opening night of "Little Women." Come out and support our students tonight, tomorrow night and Saturday.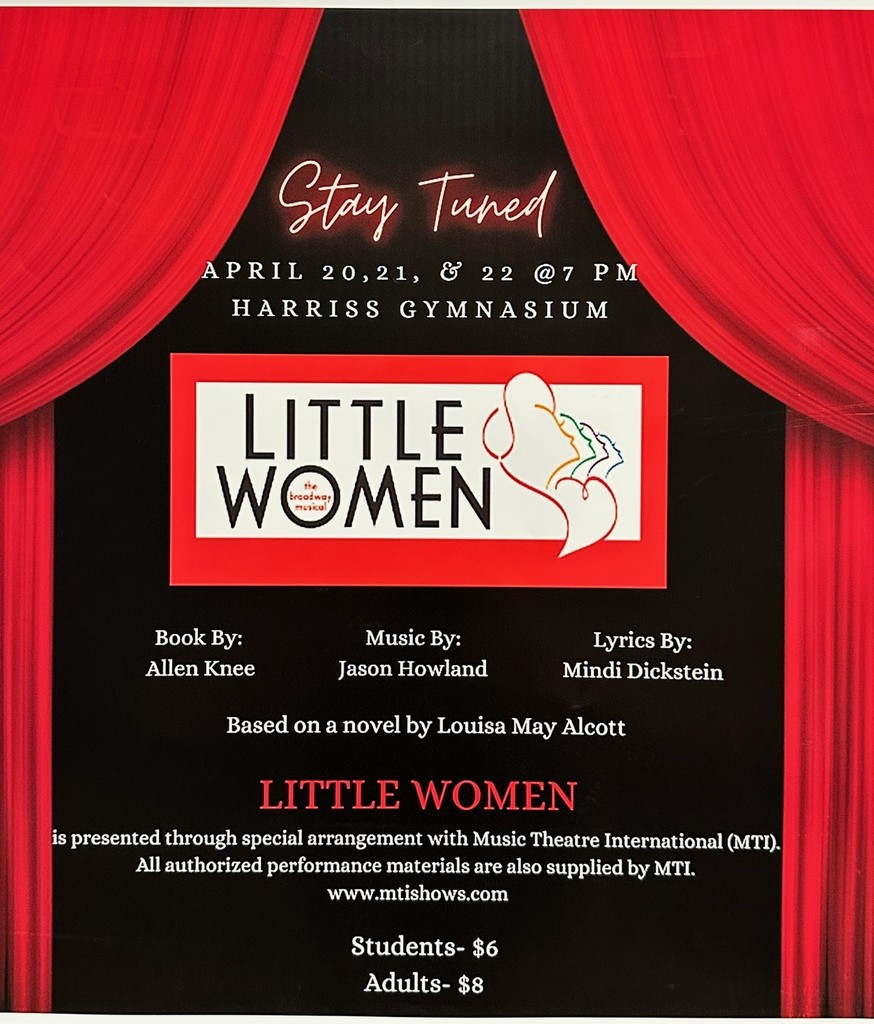 Last day of school has been set...

Be informed: If you would like to know more about the County Schools Facility Sales Tax that is on the ballot April 4th, here is the recording of the Superintendent Facebook Live town hall meeting from Monday night:
https://youtu.be/gApget8IJak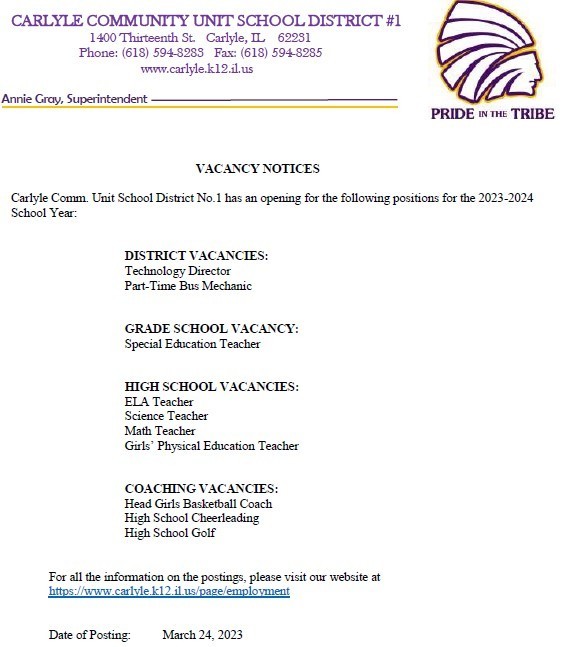 Mark your calendars!! The Clinton County Superintendents will be hosting a Facebook Live event on Monday, March 27th at 7:00 p.m. to share information and answer questions about the County Schools Facility Sales Tax that is on the ballot April 4th. Join us virtually on the Friends of Clinton County (IL) Schools Facebook page. If you have specific questions you would like answered please email them to Annie Gray at
agray@clinton.k12.il.us
or call her office at 594-8283.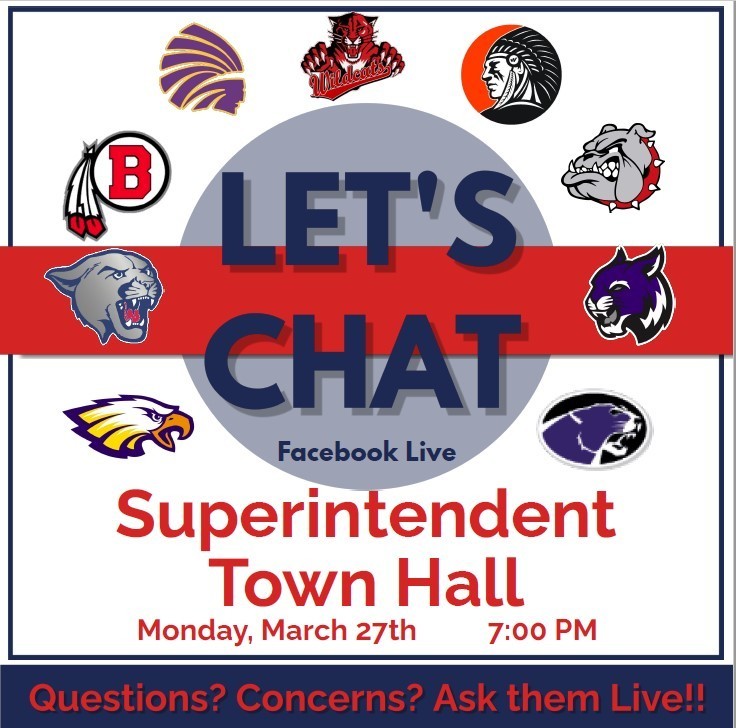 Thank you to those that were able to come to our informational meetings this afternoon/evening. Here is a flyer shared at tonight's meeting. Please share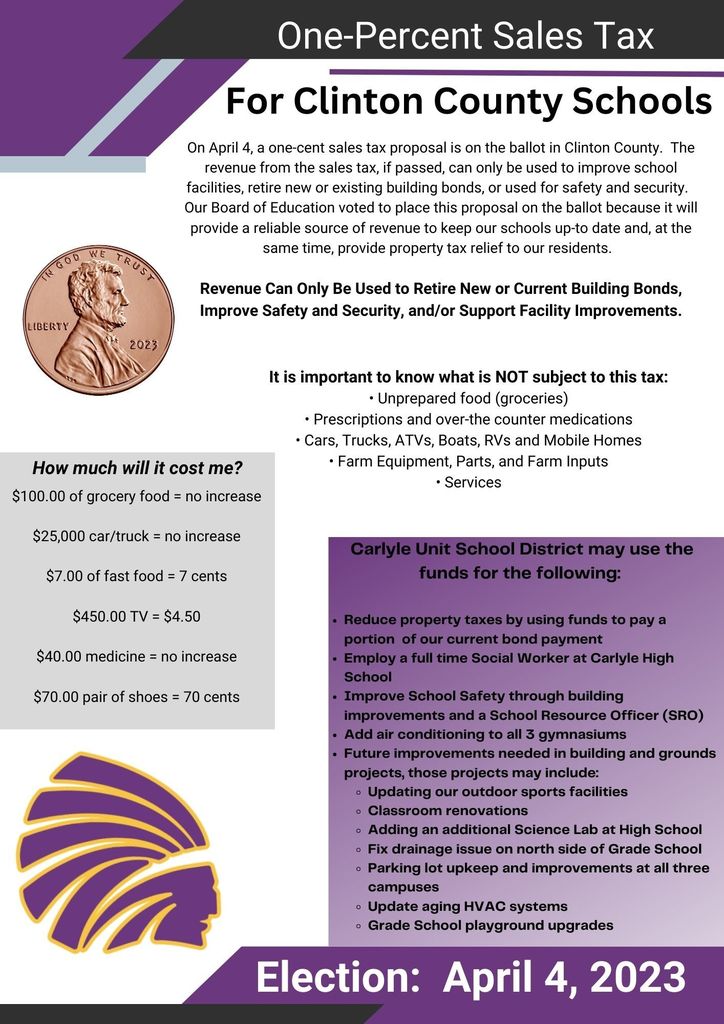 Carlyle School District will be hosting two informational meetings for our families in regards to the 1% Sales Tax (Clinton County-County School Facilities Sales Tax) next Wednesday (3/22). The meetings will cover the same information, but will give our families the opportunity to attend the time that best works for you.
Please see the full list of Vacancy Notices for Carlyle School District for the 2023-2024 School Year. Currently posted: Speech Pathologist, GS Special Education, 8th Grade Science, Jr. High ELA Interventionist, HS English, HS Science, HS PE and Head Boys Basketball Coach- all information can be found on our website at
https://www.carlyle.k12.il.us/page/employment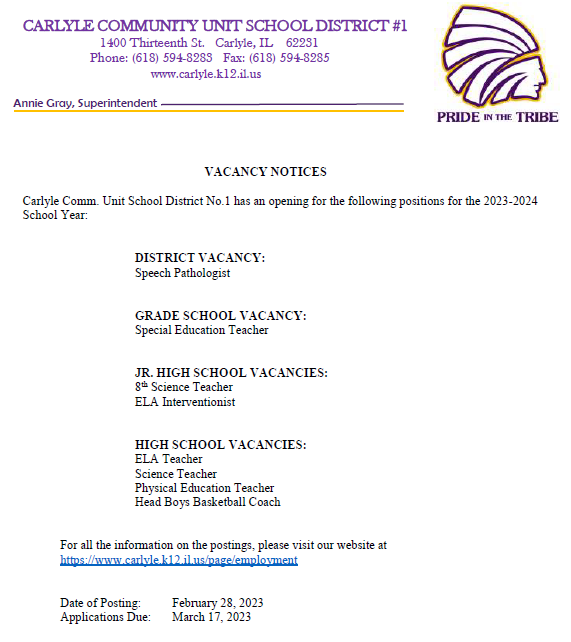 Carlyle School District will be closed tomorrow, Tuesday, January 31st. Though the main roads are mostly clear, the side roads and rural roads are still mostly ice covered. With the low temperatures expected overnight and, in the morning, I don't see these conditions improving. Stay safe and hopefully we will see everyone on Wednesday.

New- Carlyle School District is seeking applicants for a Jr. High Secretary. The full job posting can be found on our website at:
https://www.carlyle.k12.il.us/page/employment
We are also still taking applicants for a Maintenance Director, Speech Pathologist, HS English, HS Science and GS Special Education Teachers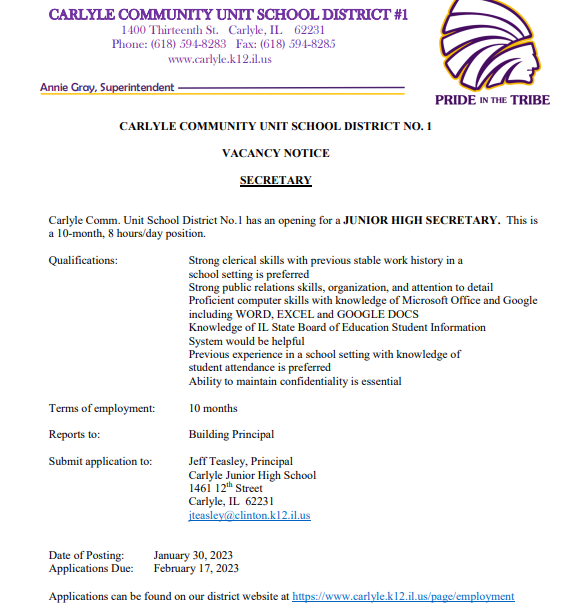 Job opportunities at Carlyle School District: NEW- We are currently seeking applicants for a Maintenance Director. We have also starting the process of seeking staff for next school year. Currently posted- High School Science, High School English, Grade School Special Education and Speech Pathologist. All job postings can be found on our website at
https://www.carlyle.k12.il.us/page/employment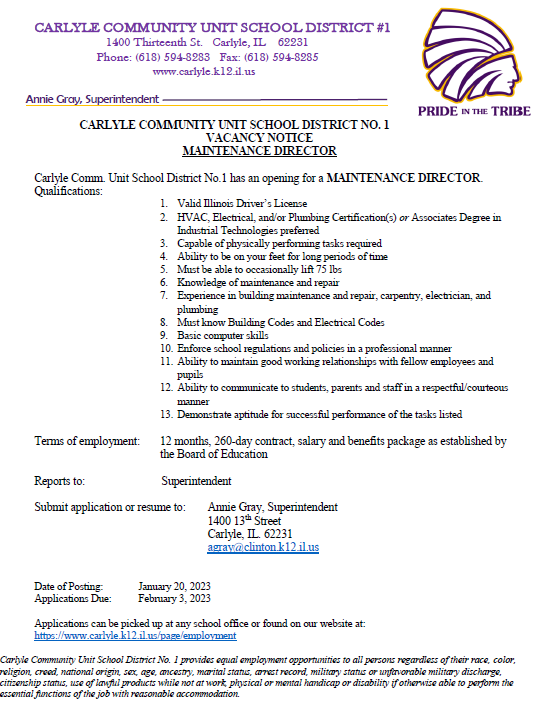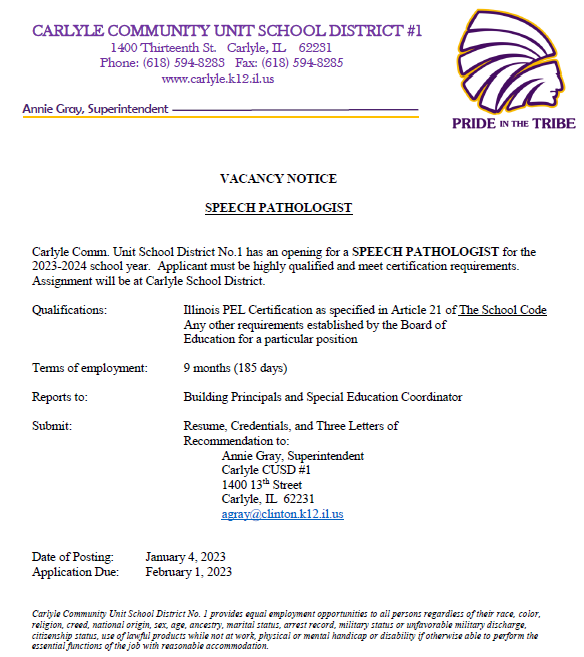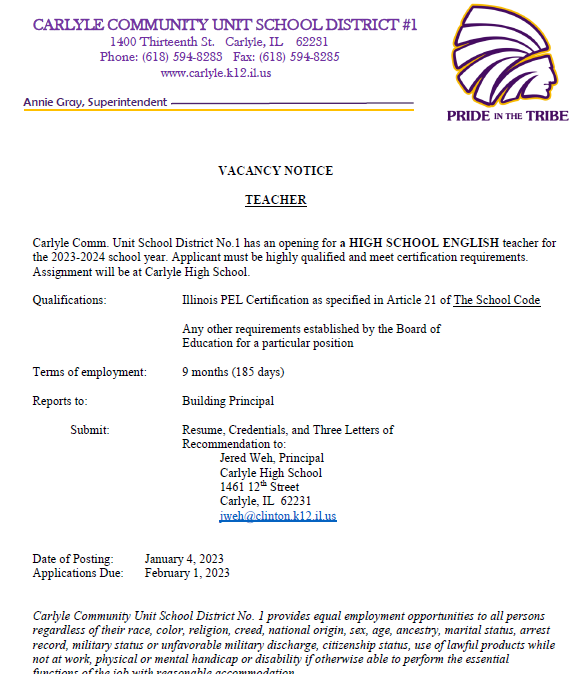 Carlyle High School Quarter 2 & Semester 1 Honor Roll